What We Offer
Our tutoring services helps students from Grade 1-12 in all academic areas by providing tutors who are certified teachers with specific knowledge and experience in the subject area. Tutors set up clear objectives with you and your child. Your child is taught according to his/her individual needs, learning style and level. Measured goals and prog ress reports are provided to ensure that learning progress are working and being met on a consistent basis. If the match is not working for you we will find you another teacher. We guarantee that you will see your child's academic performance improve.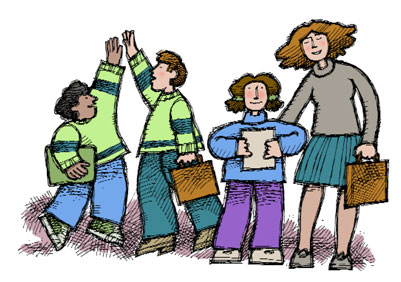 All teacher consultants have resumes for you to review. All of our tutors are certified teachers with a Bachelor of Education degree or are completing the Bachelor of Education degree and will get their certification within the current year. Each understands the Ministry of Education requirements have undergone recent police screening and have completed our tutor training.
Our tutors make the learning process fun and ensure that goals are met
Certified teachers fully versed in the Ontario Ministry of Education requirements
One-on-one tutoring service customized to your child's needs
Tutoring at the location of your choice; your home, the teacher's home, an agreed upon quiet place
Initial and ongoing assessments of students to ensure improved performance
Report cards to track your child's progress
Regular feedback of teacher performance
Educational consultation and testing available
You have some flexibility as to the location of the tutoring depending on the tutors' timetable and availability. Most tutors will come to your home or to an agreed upon quiet place such as a school or a public library. Some teachers will tutor out of their home.
Tutoring is available weekdays from 3:30 to 8:00 p.m. or later by arrangement. Weekend tutoring is also available. Sessions typically last for one hour. We have a 24 hour cancellation policy.
---
Learning Disabilities
Still to come
---
Secondary School Admission Test (SSAT) Preparation Course
Are you thinking about preparing your son or daughter for the SSAT? Totally Tutors™ offers a specifically designed SSAT (Secondary School Admission Test) preparation course to maximize your child's confidence and test scores on this exam. All of our SSAT tutoring is private and individualized. We also work with Briony Glassco to provide Interview Coaching.
Interview coaching: Briony Glassco
WALK IN THE WORLD WITH CONFIDENCE
Private school entrance training
Mentoring, coaching
All sessions are tailored to your specific needs. Once we have determined your training goals we'll design a course for you using active exercises. All skills need practice. With Briony you will use role-play situations, visualisation and vocal exercises. taking advantage of Video Playback and a variety of scripts and texts will help you to navigate your way forward.
We will focus on:

Body language
Active listening
Making your voice work
Telling a cohesive story
Speaking with authority
Using pauses for effect
How to vary phrasing, speed and tonality

You will gain tools to:

Conquer your nerves
Discover your own style
Bring your project to life
Unlock your expressiveness
Utilize nonverbal behaviour